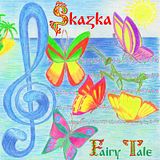 Skazka: Fairytale (Tempest24)
Fairytale is the debut album from Skazka, born as a side project of Moscow based EBM outfit "Wavefall". In contrast to the aggressive sounds of Wavefall, the chilled out Skazka project displays the influence of The Orb & Banco De Gaia to name but a few.
Skazka send the listener to other worlds, full of mystery and unknown. The Skazka team of producer Slava Busygin & designer/ sound recordist Tatiana Borisova compliment their melodies & beats with natural found sounds recorded on their travels around the world.
1. Russian Field
2. Ocean
3. Aurora Borealis
4. Mountain River
5. Savanna
6. After Rain
7. Night Breeze
8. Underwater World
9. White Horses
10. Fairy Tale