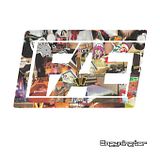 Fate Aeffect is the alter ego of Melbourne based producer Cristian Verna.
A long time live fixture of Tempest Recordings' live gigs, Enzyminator is his debut release.
Initially available exclusively at his live appearances at Melbourne dark electronic institution, Enzyme, Tempest is proud to make these twisted tunes more widely available.
Comprising material performed at his appearances at Enzyme, the EP showcases Fate Aeffect's IDM, darkbeat, industrial and ambient leanings.
01 What Lurks
02 Remote Viewing
03 Ardental (Jaw Mix)
04 The Abortionals
05  Scumfucks (Rant Mix)
Preview the set on Mixcloud here: