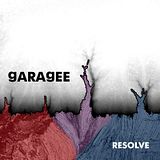 01 Platform Stomp (Radio Mix)
02 Junelectro
03 Rock Dance
04 Canon
05 Resolve
06 Platform Stomp (Stickleback Remix)
07 Platform Stomp (Arcane Trickster Remix) 
Garagee is the production project of Melbournian Multi-instrumentalist Rob McPherson.
Prolific in the Melbourne live music scene for the last 15 years as a guitarist and bass player, trips to China and Tibet introduced a plethora of weird and wonderful eastern instrumentation to Rob's musical palette, so along with extensive field recordings made on these trips, he returned with as many of these instruments as he could carry (including ruan, liuqin, hulusi, erhu, sheng, bowls and chimes, saz and more).
The result is Garagee, a combination of chilled out electronics, guitars & eastern instrumentation.
 Resolve is the latest EP release and features 7 new tracks, exploring influences as diverse as Tortoise & Kraftwerk, from the funk of the aptly named "Platform Stomp" to the cruisey jazz of the ironically titled "Rock Dance" and the electro/ bluegrass hybrid of Junelectro.
Resolve utilizes instrumentation as diverse as banjo, glockenspiels, bass, volcanic rock & a Californian sequoia, and channels French flavours with Daft Punk's drive and Air's atmosphere with a contemporary electropop twist.
The EP also features the remixing talents of  Stickleback (Tempest/ Synchronos) & Arcane Trickster (Tempest/ Cosmicleaf).