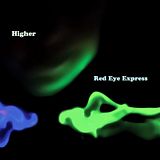 01 Higher (Radio Mix)
02 Higher (Side Liner Remix)
03 Higher (Stickleback Remix)
04 Higher (Instrumental Mix)
05 Higher (Rubal Ka Band Remix)
06 Higher (Numatica Remix)
Red Eye Express are Melbourne based musicians Giorgio Giampietri (Guitar/keyboards/technology) and Damiano Verna (Bass/keyboards/technology).
 Sharing a back ground in both rock music and electronic music, Red Eye Express was conceived as a fusion of their influences, and in addition to numerous live shows both in Australia and as far afield as Czech Republic and New Zealand, in addition to releases on labels such as Cosmicleaf (Greece), Yellow Sunshine Explosion (Germany), Cinetiks (France) and Soul Candi (South Africa) in addition to releases on Tempest Recordings.
Higher, their debut single, features the vocal talents of Carolyn Gurrisi and the remix talents of Side Liner (Cosmicleaf/ Tempest), Numatica (Tempest/PsyHarmonics), Rubal Ka Band (Soundkraft) and  Stickleback (Tempest).