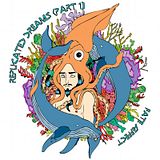 01 Breeze                                                         
02 Binbōgami                                             
03 No Stars Overhead              
04 Friends Fight                                    
05 Brick                                                                
06 Paid & Laid                              
07 Nara                                                                 
08 Like I don't belong                
09 Fishnecks                                              
10 Weightless                                            
11 Prowler                                            
12 Synapsemple  
FÆ is an experiment in multi-faceted, esoteric, tongue-in-cheek electronica. Hard to confine to any existing genres, Cristian Verna's alterego is a catalyst for musical experimentation, discovering true inspiration and venting anger.
Fate boils away before his collection of music hardware and software, amidst voodoo trinkets and reminders of his true roots in creativity. Inspired by the mushroom, FÆ evolved from dabbling in industrial, venturing through weird tech and ambient glitchbeat/soundscapes. His sets are always unique; be prepared for a journey that both ensnares the body and bends the mind. 
Replicated Dreams (Part 1) had its germination in Cristian's travels and was recorded primarily whilst living in Nara, Japan and reflects the wonder of this new environment.