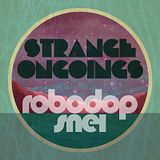 01 LOOSE STONES
02 THE ONE
03 IN THE FOREST IT IS GREEN
04 UNDER THE CARPET AND IN THE RAIN
05 THE PINK ELEFANT ON THE MOUNTAIN
06 BLUE DOTS
07 INTO THE SKY
08 THE FLYING CIRCUS
09 THE DAY ALL THE CHILDREN WENT INSANE
10 STRANGE ONGOINGS
Robodop Snei is the ambient alter-ego of German producer Daniel Eschbach.
Originally a guitarist in rock ensembles, by 1996 he was seduced by the German electro scene and soon became prolific in the studio with his unique electro and old school psychedelic influenced ambient and chill out sounds with releases through Pyramid Records, Hunab Ku Records and Tonmagnet.
Now based in Melbourne, Australia, Robodop Snei has become a fixture of Australia's chill spaces with regular appearances at Rainbow Serpent Festival, Maitreya and many more.
"Strange Ongoings" is the debut on Tempest Recordings and his most accomplished production yet.
Don't miss it.