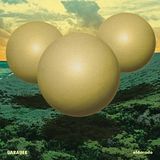 01 Prelude (Part I)
02 Dippin (Part II)
03 Phoenetics (Part III)
04 Zeits (Part IV)
05 Eldorado (Part V)
"ElDorado" is a concept EP with each song representing a progressive stage in one's metaphoric journey to the symbolic "ElDorado".
The metamorphosis of the legend itself, from 'the golden one' to the fabled destination, alludes first to the significance of the individual and the inevitable 'rites of passage' story. Set out as a physical journey with an assumption, a determination, a challenge and the final 'destination', "ElDorado" represents much more.
Embarking upon this project became a journey in itself! Garagee main man Rob McPherson engaged drummer, Tim Burnham, and producer, Benjamin Hollard, in the writing and production process. "ElDorado" slowly built into a multi-layered labour of love, worthy of its subject matter. Guitar played with chopsticks, ruan played with beard trimmers and snow-stomping percussion with a pinch of post-rock, make this something you do not want to miss!
"ElDorado" is available digitally from all major outlets and on limited edition 12" Vinyl with a full picture sleeve including a free download code.