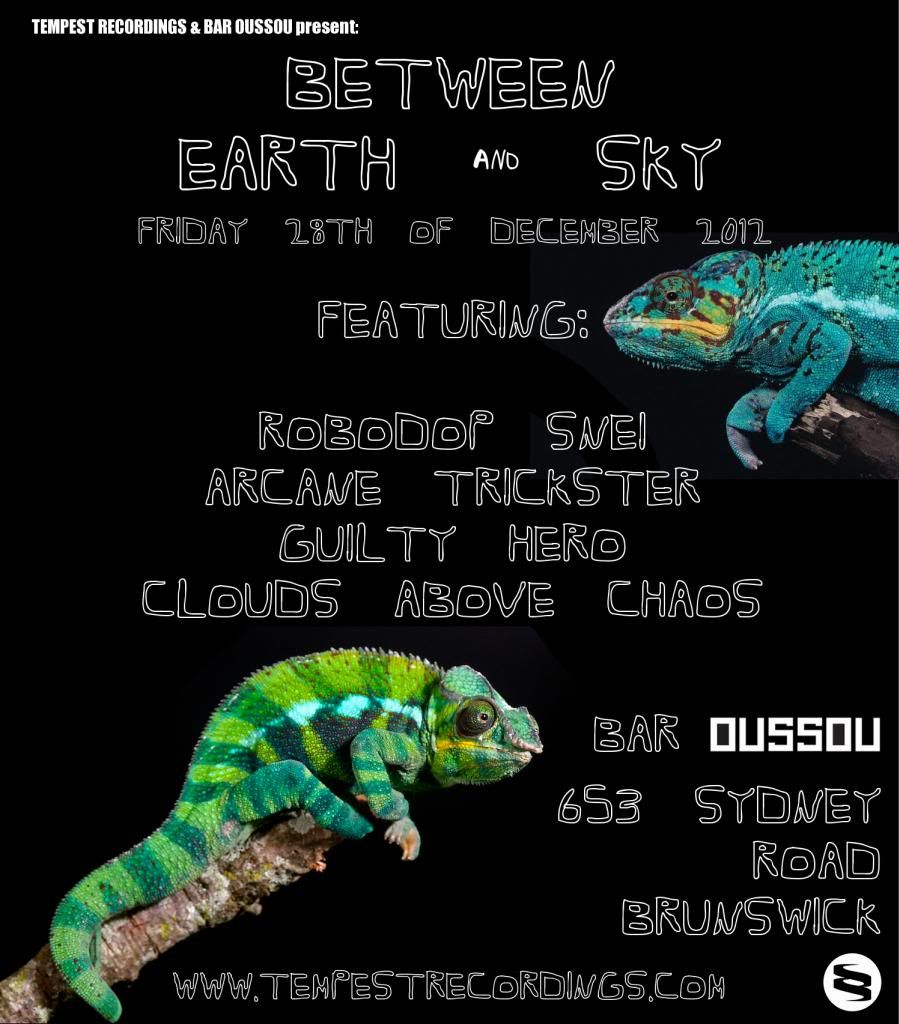 This Friday, Tempest Recordings presents its latest installment of our semi-regular event, Between Earth & Sky, at a brand new venue, Bar Ousoou, 653 Sydney Road, Brunswick.
Featuring Tempest stalwarts,
Robodop Snei
and
Arcane Trickster
, along with newcomers,
Guilty Hero
&
Clouds Above Chaos
, both of whom will be featured on new releases in the new year.
It's free entry, from 7pm, come along it'll make you smile!
https://www.facebook.com/events/548002141894896/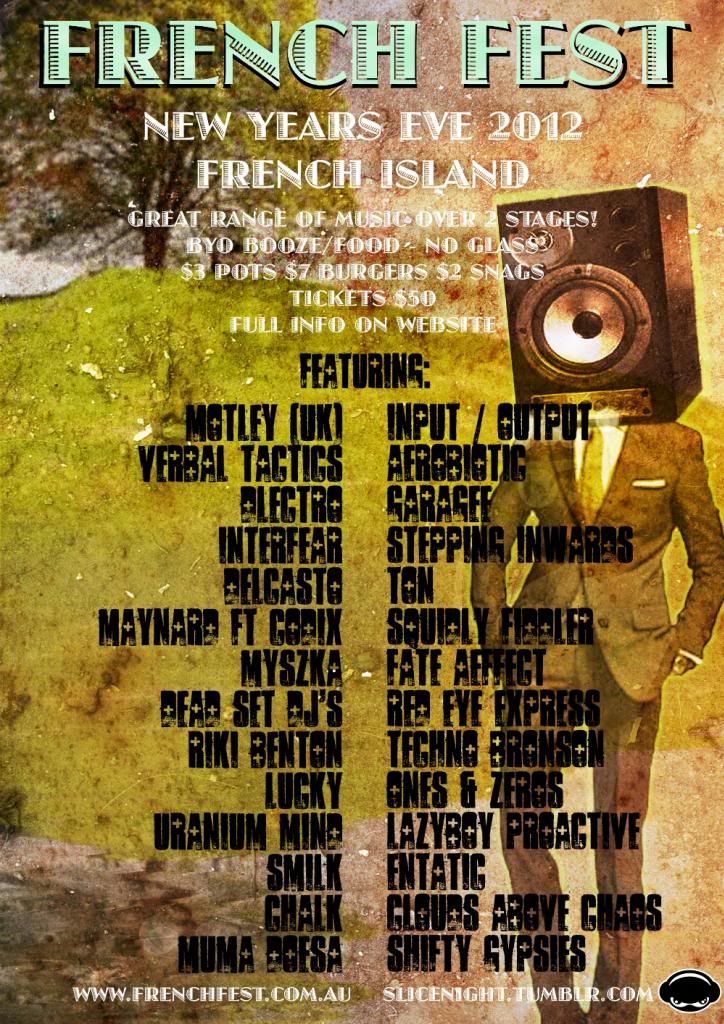 Just a couple of days later, a host of Tempest artists will be appearing at the
French Fest
, not a festival of all things gallic, but a new years celebration on French Island in Westernport Bay, Victoria.
The Slice Stage will be featuring:
Stepping Inwards
Input / Output
Peter Piro Weber aka Pirotechnics
Red Eye Express
Squiddy Fiddler
Garagee
Fate Æffect
Tøn
Pitchcraft
Ones & Zeros
Lazyboy Proactive
Techno Bronson
Entatic
Clouds Above Chaos
Shifty Gypsies
FULL DETAILS
www.facebook.com/frenchfest
or
www.frenchfest.com.au/
BAR MENU
This event is BYO but to save you lugging so much grog over we have organized a bar that will be running from morning till 8pm, after that its up to you
serving Beer, Cider and non alcoholic beverages
From $3 per pot
FOOD
Its also BYO food and munchies
but there will be amazing organic beef burgers and snags
burgers $7
Snags $2
TICKETS $50
Online from www.frenchfest.com.au
$70 on the door
STORE LOCATIONS:
-Janice Earth Skateboards, shop 4/1459 Crn Pt Nepean Rd & Boneo Rd
-Shed nine, rosebud
This event is non profit, all the ticket money is spent on the party. Which means the more people, the better the party
Tickets will sell out. And tickets will unlikely be sold at the gate. So jump in early! dont miss out
WHEN:
30th - 31st December (NYE!)
WHERE:
-French Island, located in the western port bay.
TRANSPORT:
-It is easy to get there, a Ferry runs every few hours from Stony Point Pier or Cowes pier on Phillip Island. $25 full fare ($15 concession) return for the ferry.
-You can get to stony point via train (V-line from Frankston station) which will drop you literally out front Stony Point Pier where a ferry will be waiting!
-15 min ferry trip!
http://www.interislandferries.com.au/fi_costs.php
-For those of you who are planning to drive, there is a car-park at Stony Point pier caravan park that we are able to use. Your cars will be secure.
DETAILS:
-Bring a tent or swag to rough it for a few days, we will have a few sheltered areas away from heat and sun aswell.
-Party Staff will be scattered around the party for any problems anyone might have.
-BYO alcohol, food and WATER, small BBQ's whatever you would take on a camping trip..
STRICTLY NO GLASS BOTTLES, the owner of the property doesn't want smashed glass all over the place as it is a cattle farm. Easy enough to poor all your straight into plastic bottles and buy cans instead. bottles wont be aloud over on the ferry.
THIS IS A BYO ALCOHOL PARTY, STRICTLY 18+