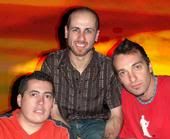 Red Eye Express are Giorgio Giampetri (Guitar/keyboards/technology) and Damiano Verna (Bass/keyboards/technology).
In 2003, Damiano AKA
Arcane Trickster
, started working with good friend Giorgio Giampetri, best known as the guitarist with local band Snood, and his DJing and electronic music using the alias Bebcat.
Sharing a back ground in rock music and electronic music, Red Eye Express is a fusion of their influences, with the production nous of ARIA award winning producer Simon Polinski and augumented by the programming skills of Christopher Innes & John Crombie (from
The Omm Squad
) and the dexterity of multi-instrumentalist Rob McPherson (AKA
Garagee
).
Red Eye Express have featured on releases on Australian label
Tempest Recordings
, in addition to releases on
Cosmicleaf
(Greece), Yellow Sunshine Explosion (Germany), Tranceport (Russia) and Cinetiks (France).