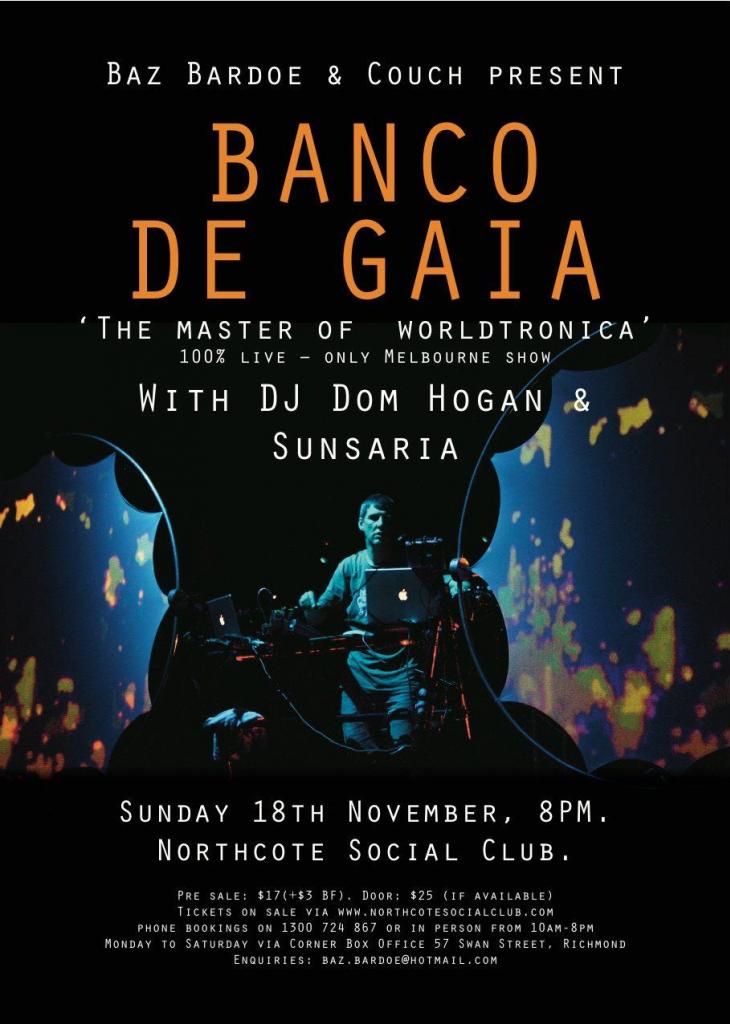 The name Banco De Gaia has been synonymous with groundbreaking, world infused electronic music for two decades. Mixing electronic and acoustic instruments and voices his work defies genre classification.
He has worked with a variety of musicians ranging from legendary saxophonist Dick Parry (Pink Floyd) to Anglo-Egyptian singer Natacha Atlas and cutting edge dance producers such as Jack Dangers and Fluke.
In 1994 he released his first studio album 'Maya' on Planet Dog records, which was nominated for the Mercury Music Prize on its release. It was followed in 1995 by the critically acclaimed 'Last Train To Lhasa'. Both albums reached Number one in the UK independent charts and featured in the national album chart Top 40. In the following decade Banco De Gaia released 'Live At Glastonbury', 'Big Men Cry', 'The Magical Sounds Of Banco De Gaia', 'Igizeh' and 'You Are Here'
A huge part of Banco De Gaia's legendary reputation is his live shows which fuse his trademark 'worldtronica' with cutting edge visuals that convey something of his politics and worldview. A Banco De Gaia is a stunning experience and fans are still raving about his previous Melbourne show back in 2007.
Banco De Gaia will be appearing tomorrow for a special matinee set at Couch, at the Perfect Drop, 5 Howe Street, Daylesford for a DJ set with support from C-Raven & Couch supremo Aslan.
Later, at thr Northcote social club he will be presenting his only live show in Victoria. Support on the night comes from DJ Dom Hogan and
Sunsaria
.
Dom Hogan has been pivotal in the evolution of electronic music in Australia. As one half of seminal outfit Lumukanda, his 'tribal tech' sensibility became synonymous with the huge Earthcore outdoor events. He also hosted Creative Alternative Techno on PBS FM for two decades – the longest running show of its kind in Australia.
Sunsaria's 2010 ambient dub debut,
Australiens
, through Tempest Recordings, became album of the month (August) and made it into the Top Twenty albums of the year on US radio's Musical Starstreams chillout chart listing. The followup 'Blue Dreaming' is a totally ambient album described as a 'classic' of its genre (Nexus).
To get you in the mood, check out this free
DJ mix from Aslan
, featuring a host of tracks from our recent
Couch compilation
.
http://www.mixcloud.com/AslanShazam/aslan-chill-dj-demo-2012/